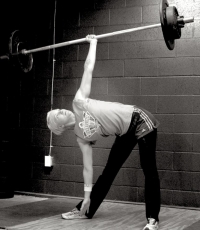 Old School Strength: New lifts from history's pages
Cost: $20
When: Sunday, June 2, 10AM – 2PM
Where: Hyde Park Gym, 4125 Guadalupe St.
Today the bent press and one-arm snatch don't find a great deal of popularity in most modern lifting and movement arsenals. But they, and many lifts like them, are part of a forgotten world of strength training that created some of the strongest people in history. Before anabolic drugs or anything resembling a multi-billion dollar supplement industry ever existed, people looked strong because THEY WERE.
Earn your muscle and learn how old school strength can build very modern muscle and increase your performance in the gym and out. Oh, and have some serious fun in the process.
Sign up here, then join the event on Facebook.