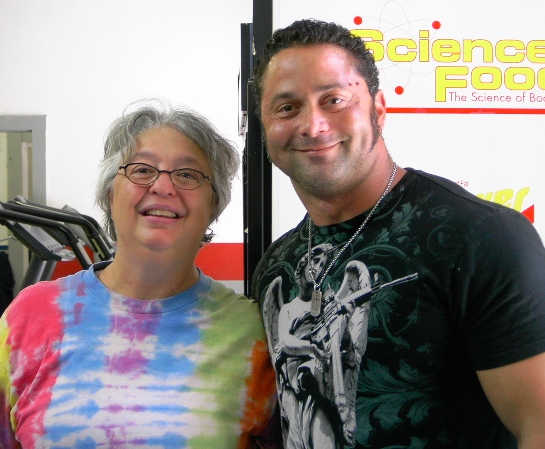 [above: Linda and Marc]
From Linda via email:

Just wanted to let you know how much I enjoy coming to Hyde Park Gym. I've been intimidated by other gyms. I felt right at home the moment I walked into HPG.

As a result of working with John and Grass Iron, and with help from Lem on becoming one with the elliptical, I've dropped 2 dress sizes (4 numbers!) since my older son's wedding last summer. I had much more fun shopping for a dress for my younger son's wedding next month.

Thanks for providing such an accepting place to get fit and have fun at the same time.
I worked out at Hyde Park Gym for the last 6 months, and I loved it.  Unfortunately, I have moved to Champaign, IL.  What I am wondering is…do you have any thoughts or advice on how to find a new gym around here that doesn't suck?  By suck, I mean I hate gyms with obnoxious joining fees, sales staff, and so on.  I'm looking at gym websites here, and they keep saying "we're more than a gym…we're an experience."  I don't want an experience, I want a gym.  I don't need fancy equipment or whatever.  Just a place to lift.  Again, I have the exact same outlook that HPG does.  Does anyone who works there have suggestions about a gym in this area?  If not, ignore my question, I imagine it may be outside the scope of ya'lls jobs.  Consider this a comment: I had a blast working out at HPG.  I've never been to another gym that was as down to earth and laid back as this one.  I tremendously enjoyed the events (the Big 3 workshop and the squat competition), and just by being around other members and employees, I learned a lot. I really can't say enough how perfect a gym this was for me, how much I enjoyed going in each day, and how much I learned by going here. - Jelena Pantel
I find Hyde Park Gym to be a friendly, convenient, relaxed, neighborhood gym.  No frills, but then, I don't want to pay for frills.  And no irritating music!  A wide variety of folks work out there from grandmothers to body builders (and I think some body-building grandmothers) so folks like me don't feel intimidated.  Excellent personal trainers are available who will listen to what YOU want, on your schedule.  Sure some of the equipment is old, but it works fine. (Sort of like me.)  Overall, it's a great place to start working out, keep working out, and modify or improve your workouts. - Peter Langlois, PhD
I love HPG.  I love everything about it.  It's low-key and friendly.  People aren't looking at what you are wearing or trying to pick you up.  Which is not to say that we're not "pick-up-able," 'cause we're a handsome crew, but we're more interested in working out and staying healthy and helping each other do the same.  The folks on staff are friendly and helpful.  They're happy to answer your questions or help you out if you need some workout advice, or maybe just a chat.  They're not going to bombard you with some sales pitch for a membership.  You want to work out?  Then come in, pay the fee, and do your thing.  That's it.  I don't need fancy classes or booming music and pretty outfits.  I need a good gym, that's well-kept, run by friendly people, where I can do my workout and not have to pay a ton of money.  That's Hyde Park Gym.  A GREAT gym at a GREAT price for people that are interested in working out. - Amy Botelho
My name is Patrick Barlow and I can guarantee that you do not know me. I am new to the Austin area and was looking for a new gym that was the complete opposite of Golds Gym. I was in the Marine Corps and have been all over the world working out at various gyms and yours by far is the best gym that I have ever stepped into. I walked in there today and had a flash back of home, because it reminded me of the gym I use to "live" in.  I love the old school set up with the doors and windows open and the fans blowing.  It doesn't have all of the fancy lights, t.v.'s, and crappy music playing. AND THAT'S THE WAY I LOVE IT. I will start at 5:00 a.m. tomorrow and I can't wait. I haven't been this excited to work out in years. Thanks for having something like this available and don't go changing. - Patrick Barlow
If you're in your 60′s or 70′s Hyde Park Gym is your gym. After being diagnosed with moderate to severe arthritis, I decided to do something about it. I couldn't just sit – that future was being immobilized. I wondered about the reception an older person would get going to a "serious" gym – no worry. No loud music and impossible spandex, trainers who know how to work with the elderly and lots of friendly people ready to help. Thanks to training my balance has improved, I'm stronger and the stiffness has decreased. And working out gives you a high that beats depression hands down – just ask me! - Sandy Madsen I went to Hyde Park Gym my last two years at UT (96-98).  NEVER have I been to a gym I have enjoyed as much.  The atmosphere there was fantastic.  It felt like people were really there to do some work, not prance around in little outfits or try to sell you something you don't need.  I have since moved 'back home,' and I have yet to find that atmosphere again.  So I turned a room of my house into my own little Hyde Park Gym. Keep up the good work.  You have something special there. Manisha Gupta, MD Plano, Texas